If you want to see London at its best view, take the Thames River Cruise. The ticket price differs depending on the journey which starts/stops at these 4 piers: London Eye, Tower Pier, Westminster, Greenwich. Our cruise took off from Westminster Millenium Pier headed towards Greenwich. That cost us
£14.50
for the return ticket for one adult and
£7.50
for a child. Make sure you take the most right or most left seats. Its easier to take photos that way.
This is the 'actual' London Bridge. Thames river has more than 7 bridges crossing above it. Many of us mistakenly take the 'Tower Bridge' as the London Bridge.
We passed by the HMS Belfast Ship. This ship was launched in 1938, during World War II, used against Germany. The ship is now permanently acting as a ship museum and operated by the Imperial War Museum. 70 years passed by, but the ship is still looking good. If you have the extra time, do checkout this museum.
Then there's the famous Tower Bridge. The bridge opens up for ships that has tall mast. Unfortunately for us, there were no big ships cruising at that time. The bridge is obviously well maintained compared to the other bridges.
I can't remember the name of this building but it shows the modern side of London.
Super expensive lofts by the river. The guide mentioned few Brits/Hollywood celebrities names who owned a loft there.
I had no idea why, but I really like The Mayflower pub building. Its so Brits.
London eye at its best view from the river.
More pictures posted at my Photobucket. Click thumbnails below to enlarge photo.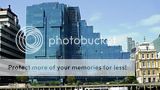 Previous Post:
London: Horse Guards, Downing Street, Big Ben